The West-Kardashian household sure has the best marketing techniques.
In August 2016, just before a powerful tropical cyclone hit Tokyo, John Elliott met with Fraser Cooke, Nike's Global Brand Energy Product Lead, at a cafe in Japan's busy capital. At the time, the American sportswear designer had already collaborated with Nike on the LeBron Soldier Xs, which were released later that year. But Elliott had hopes of retooling another personal favorite: the NikeLab Vandal High.
"I told him I really wanted to work on the Vandal and how much that [sneaker] represented my personal style," he says. "Fraser immediately was like, 'Let's do it. I love the Vandal.'" Elliott pauses, his eyes widening with excitement as if he's back in that exact moment. He's still amazed that Cooke, who has orchestrated some of the company's most successful campaigns and collaborations, was on board. "I was like, 'Really? OK.'"
More from Complex
The Louis Vuitton x Supreme pop-up shop isn't coming to NYC after all. In fact, the highly coveted drop has been scrapped all together.
On Tuesday night, Hypebeast broke the news by publishing an email sent by LV's client services. The message read: "Regrettably, this collection will no longer be sold in any stores or online. However, please visit our social media channels and website for updates."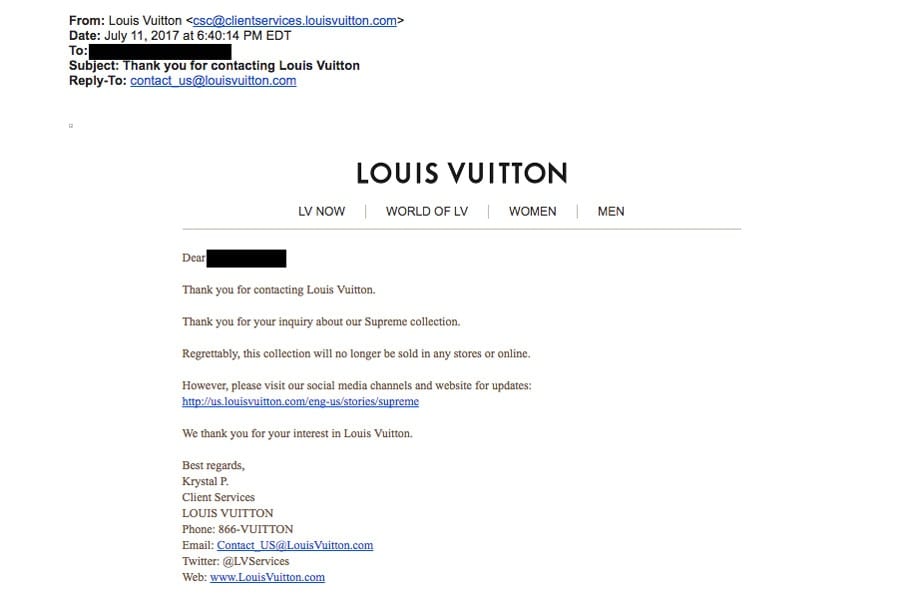 The cancelation comes just a week after the LV x Supreme pop-up event was rumored to arrive at additional North American cities this Friday. People in cities like NYC, Houston, Honolulu, and Vancouver have spent the last week lining up in the hopes of getting their own LV x Supreme gear. 
We're sure most of them won't take the news too well.
It's not immediately clear why the collection will no longer be available.
The initial LV x Supreme pop-ups launched in late June in Seoul, Tokyo, Beijing, Paris, London, Miami, and Los Angeles. Though there were initial plans to set up a shop in NYC, the Manhattan Community Board No. 2 rejected the proposal back in May. Fashionista reported that it was a unanimous decision primarily based on the large number of expected of customers. Residents expressed concerns about crowd management and how sidewalk closures would affect access to their homes.
More from Complex