The absurdity of it all hit in the third inning. Stepping up to the plate in a scoreless game, runners on first and second with one out, one of my teammates yelled, "Let's go, Yeezy."
Digging into the right-hand batter's box, trying to get comfortable for my second at-bat, I had to stifle a smile. Rocking a pair of exclusive cleats in an amateur baseball game was ridiculous enough. But to be stunting in Central Park in a pair of unreleased Adidas Yeezy 750s? This was on another level.
Complex Sneakers was laced with an ultra rare pair of Yeezy cleats not too long after they first debuted on Von Miller last September. And despite the fact they're most definitely football cleats, I begged Sneakers for months and months to let me rock them for one of my baseball games. All in the name of content.
Two weeks ago, they finally said yes.
So I picked a day when my team had a doubleheader, that way I could compare what it was like rocking my normal cleats—Nike Huarache 2KFilth Pro Three-Quarter—in the first game to the hype, hoopla, and expectations in the second that comes with taking the field in a pair of cleats that were supposed to retail for $300 but never released.
It was going to be an exercise in indulgence, because in the league I play in—the Pancho Coimbre Baseball League—nobody takes themselves too seriously. Sure, everybody's trying to win and not embarrass themselves. Everyone wants to perform and prove they're a ballplayer and not some scrub. But the overwhelming majority of the guys in the eight-team league don't really care what kind of cleats they're wearing, or whether their batting gloves share the same logo as their footwear.
I'm way more cognizant of my 'fit on the field than most. But still, rolling up to the plate in the first inning in a pair of Yeezys was big-timing it. I explained to my teammates what was going on—that I was laced up to write about the experience and get it on video and that the pressure was on to perform. Wearing them meant I had a responsibility to square up a few fastballs and launch a couple of moonshots. My fielding had to be flawless. The squad had to win. You can't stunt and play like shit.
Only problem is I did.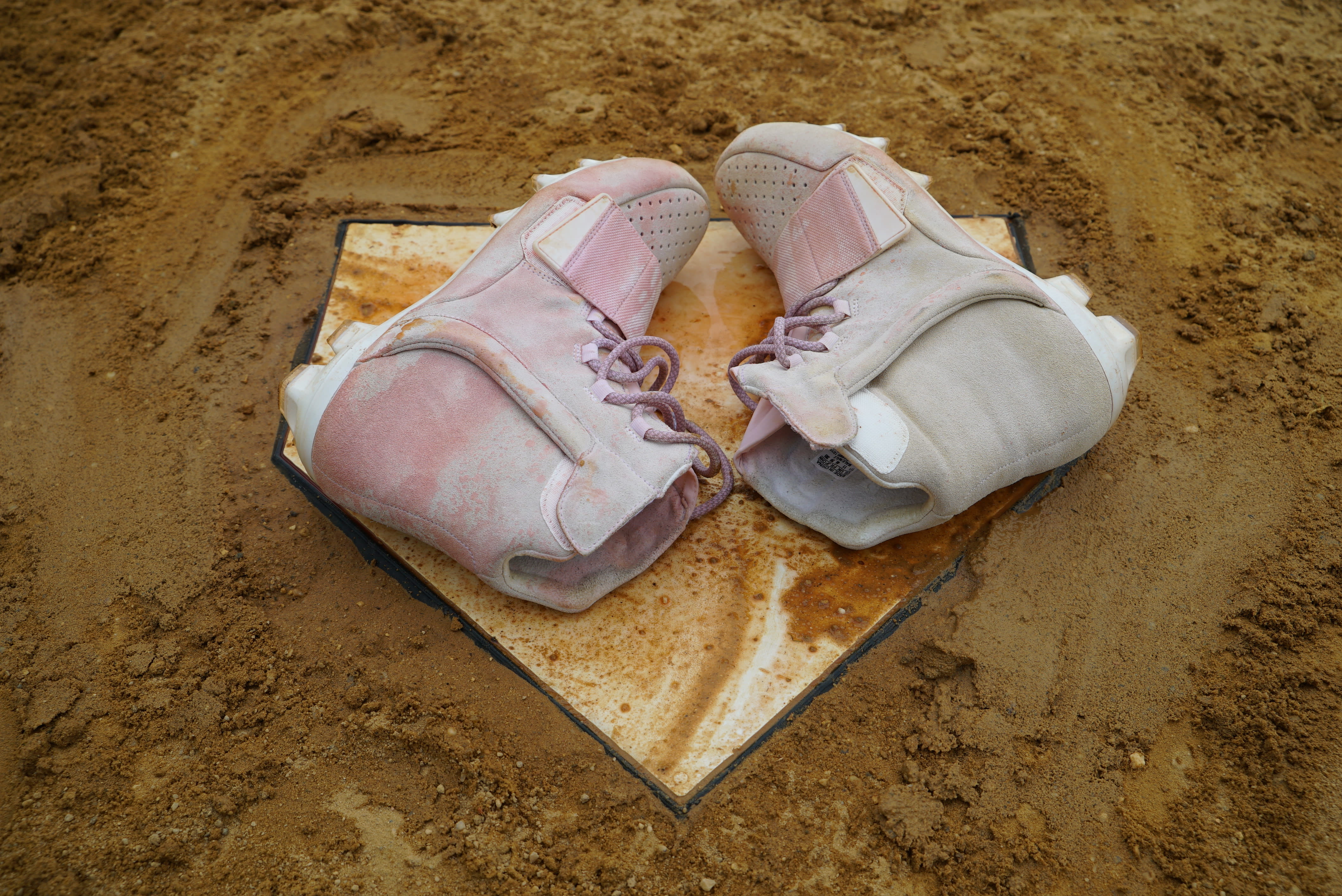 When word got around the Complex office that I'd be wearing them for a game, my colleagues told me I better gear up for a royal roast session if I didn't get a couple of hits. So as if dropping the first game of the doubleheader and needing a win to salvage my team's Sunday wasn't enough, I had a handful of my colleagues' voices in my head every time I stepped to the plate.
While I was pressing up at bat, I wasn't worried about the performance of the cleats themselves. A size bigger than I ideally would have liked, the Yeezys were surprisingly snug and responsive. You never see suede on the diamond, but they looked better—or at least I felt like they looked better—than I expected. I thought they would stick out like a sore thumb, since I've never seen a high-top cleat on the diamond as tall as the Yeezys. But I tipped off my teammates in between games and didn't get hit with a "What are those?" from our opponents.
My feet were, however, pretty toasty for an overcast day with temps hovering around 60. If it was a blistering hot and humid July day, the Yeezys would have been an oven. But I was pretty satisfied with how supportive they were and wasn't worried about them slowing me down. They're comparable in weight—they're much lighter than they look—to just about any cleat I've played in recently. Manning shortstop, I was flawless with my five opportunities, including turning a textbook double play. I just didn't get a chance to test them out on the basepaths.
That's because I went a disgraceful 0-4 at the plate, with three strikeouts and grounding into a double play. After smoking a fastball down the third base line in my first at-bat, that was fielded cleanly by the third baseman on two hops and thrown around the horn for a double play, I didn't see a fastball I could do damage to with my next three trips to the plate. Seeing curveball after curveball, I started pressing, putting pressure on myself to get a hit with the voices of my colleagues bouncing around my head. So I swung at pitches I shouldn't have. In my last at-bat, I missed a hanger that I pulled foul down the left field line before getting called out on a suspect third strike. It was too far outside and I let the ump know before sulking back to the dugout, embarrassed and pissed. The only solace? We were three outs away from wrapping up a 7-1 victory.
For the record, with my Nikes on in the first game, I went 2-3 with an RBI double, a single, and a walk. So I'll blame 0-4 on the Yeezys. But deep down I know I played myself. I tried way too hard to knock the cover off the ball, flash some leather, and straight up dominate because that's what you're supposed to do rocking the flyest gear. Then I remembered I pay to play baseball. Not the other way around.
More from Complex