Here's some free advice for all of the guys who are hoping to get selected in the NBA Draft next year: start going through your various social media accounts now and deleting anything that could potentially come back to bite you once you walk across the stage and shake hands with Adam Silver. Trust us, it'll be well worth your time.
It should be a pretty simple concept, and NBA prospects pay agents, publicists, and other handlers quite a bit of money to make them look good in the public eye. We would guess that a big part of that is scrubbing anything that could be perceived as even slightly controversial off social media in the months, weeks, and even days leading up to a big event like the NBA Draft.
But on Thursday night, 60 players were selected during the NBA Draft at the Barclays Center in Brooklyn, and after they were drafted, Twitter went into overdrive and started looking through their old tweets to try and dig up any dirt that they may have posted in the past. And somewhat amazingly—in a "How the hell is this still happening?" kind of way—there were quite a few players who had incriminating stuff located deep in their Twitter timelines.
Some of the stuff was relatively harmless but still raised eyebrows among NBA fan bases. For example, Jayson Tatum—who was selected No. 3 overall by the Celtics—once sent out this tweet in the middle of a Boston game in 2012: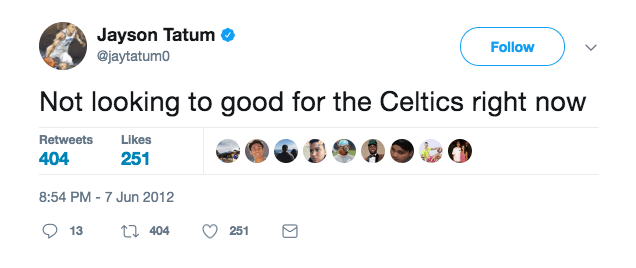 Likewise, Lonzo Ball, the Lakers' pick at No. 2 overall, sent out this tweet back in 2013 that seemed to predict Kobe Bryant & Co. wouldn't make the playoffs before the 2013-14 season even started: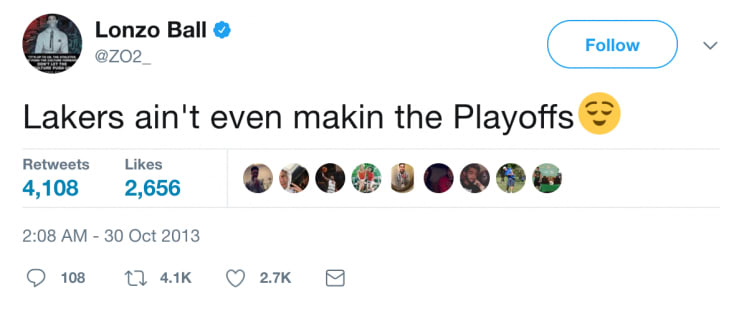 Jordan Bell, who was drafted by the Bulls at No. 38 before being traded to the Warriors, said this about Golden State in 2016:
And Terrance Ferguson, selected with the No. 21 pick by the Thunder, had this to say about Oklahoma City when the Warriors were on the verge of coming back from a 3-1 deficit in the 2016 Western Conference Finals: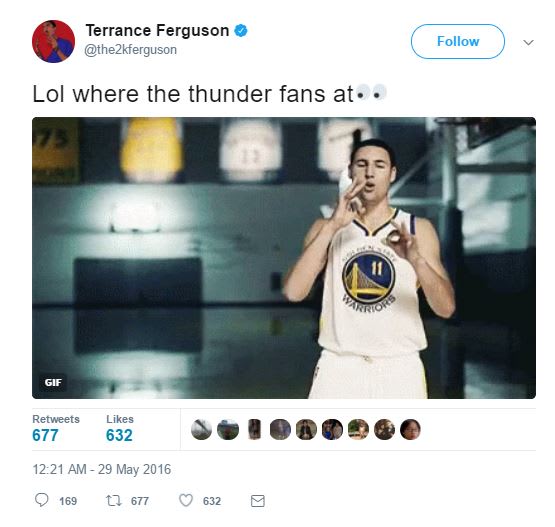 We're sure OKC fans loved being reminded of that, especially since the loss to the Warriors ended up costing them Kevin Durant. We're also sure they now appreciate the fact that Ferguson is actually from Oklahoma but was actively rooting against the Thunder as recently as just last year.
But those tweets were just the beginning. Elsewhere, Twitter dug up this old 2012 tweet from Edmond Sumner, the Pacers' pick at No. 52, that featured him accusing the NBA of being fixed:

There was also this tweet from Sindarius Thornwell, who was drafted at No. 48 by the Bucks before being traded to the Clippers, that outlined his approach to dating: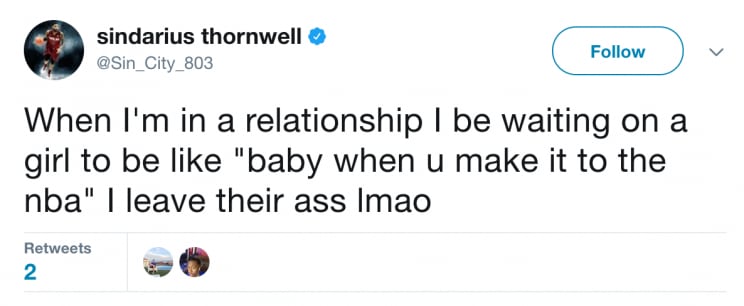 But the most interesting—and the most embarrassing—old tweets came from the No. 9 and No. 10 picks in the draft. Zach Collins went tenth overall to the Trail Blazers, and when he did, some Portland fans took to Twitter in an effort to find out more about him, since he was one of the lesser-known prospects to go in the lottery portion of the draft. What they found was this 2012 (2 Chainz-inspired?) tweet: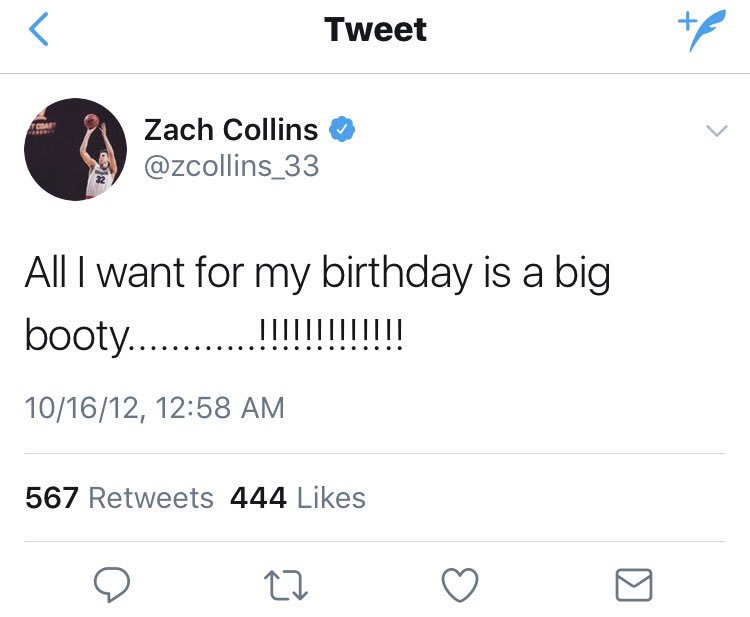 They also discovered this extremely awkward Vine of Collins twerking—or at least, what we think was his best attempt at twerking:
Collins deleted both of those tweets as well as a bunch of others that showed him acting a fool when he was, like, 14.
But the most embarrassing tweet of the night definitely belonged to Dennis Smith Jr., who went ninth overall to the Mavericks in the draft. Shortly after he was selected, one of his tweets from back in 2012 went viral, and it took him a long time (too long!) to take it down. It said—*cringe*—this: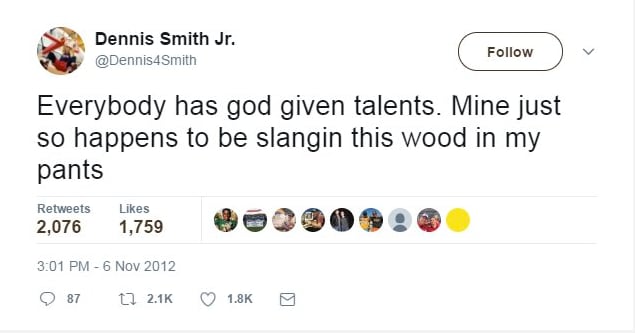 The moral of the story here is pretty simple. If you're going to spend your teenage years tweeting whatever your little heart desires, cool. But make sure you delete everything—and we do mean everything—before you're on one of the biggest stages in sports. Or else…
More from Complex