Early Thursday, Partynextdoor went on a tweetstorm about why black Americans buy chains, but the artist added some controversial comments about Jews that caught the attention of fans and attracted some strong criticism.
The Canadian singer was trying to make a point about buying chains, but threw in some not-so-clever wordplay associating Jews with jewelers. The tweet is now gone, but the rapper has received his fair share of backlash for what many felt was a massively ill-advised joke.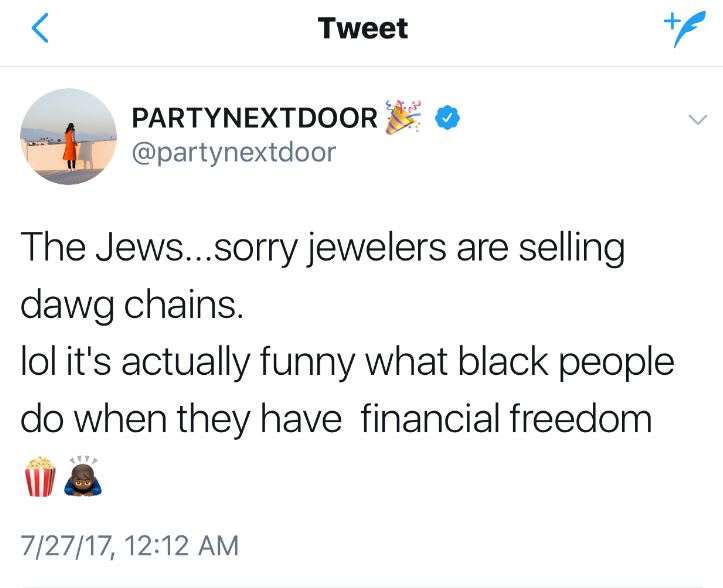 Nigga aren't you signed to a gang of Jews ? @partynextdoor . Be safe tho pic.twitter.com/LBt1DuY6Zz

— 🔥👻 : lye_mcfly (@lyemcfly) July 27, 2017
Gold is actually a great investment, not jewelry. Should of just said that. Who owns it has no relevance. @partynextdoor pic.twitter.com/2GppeipCOZ

— @Artise1 (@Artise1) July 27, 2017
PND didn't seem mad or suprised at all. Just a few minutes later, he tweeted again. He didn't mention his previous controversial tweet but did cheekily reference the "tweet and delete life."
No lol I just love to troll. Tweet and delete life forever.

— PARTYNEXTDOOR 🎉 (@partynextdoor) July 27, 2017
In fact, one dedicated fan who has turned on Twitter notifications for the artist claims to have caught all of PND's tweetstorm, which included a few more tweets in the same vein as the first offending tweet. He went on to say, "600 years ago Black Americans would you buy a dog collar with your hard earned money Lol it's a joke but seriously," and then added, "Only a shot at reality… let's just wait till Jay Z says it."
aha, that's why I turn on those notifications .. I catch em all. pic.twitter.com/jtOn3ShAkr

— weRnude. (@_ashleecheyenne) July 27, 2017
PND's is referring to Jay Z's similar comment about Jews on "The Story of O.J.," a track off his latest album 4:44. In the song, Jay Z raps, "You wanna know what's more important than throwin' away money at a strip club? Credit/You ever wonder why Jewish people own all the property in America? This how they did it."
Wasnt really expecting Jay-Z to go anti-semitic when I started the new 4:44 album this morning. https://t.co/WugWbMpNue pic.twitter.com/zNiM72Lh72

— Jerry Gamblin (@JGamblin) June 30, 2017
The comment was seen as feeding into existing negative stereotypes surrounding Jews and how they make and keep money. It was not lost on fans, and although many criticized Hov for what they saw as a low blow, many also came to his defense, including Russell Simmons.
More from Complex